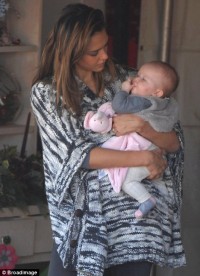 We love Jessica Alba and we love her adorable baby Haven just as much. Of course, we where thrilled when we heard that mommy had fitted her in a adorable little vest.
Jessica outfitted little Haven Garner Warren in Eliane et Lena while picking out a Christmas Tree with her mama and big sis, Honor Marie, over the weekend. We think that the little one looked adorable in her Eliane et Lena CAMEROUN faux fur vest, $49.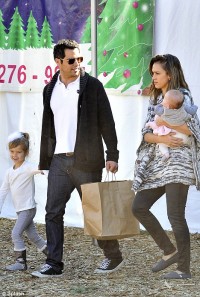 Of course, the rest of the family is as beautiful as always. Jessica and hubby Cash Warren both look so happy. How can Jessica always look so drop-dead gorgeous? And little Honor seems to love the Christmas season as she just beamed the entire trip!
Eliane et Lena is Hollywood's favorite new children's line, with other fans including Courteney Cox, Katie Holmes, Katherine Heigl, Nicole Richie and Heidi Klum! www.elianeetlenausa.com
Thanks to Splash for the images…..