Winter is here to stay, at least for several more weeks. So don't stay in your mom jeans! Switch things up a bit! Whether you're chilling in the cold weather or heating up in the tropics, Fresh Produce Sportswear has three tips to brighten up any winter wardrobe.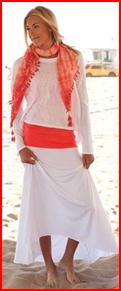 1.)Â Â Â Â Pair a brightly-colored scarf with just about anything.
Scarves wake up just about any outfit, so don't let the winter blues (or blacks or browns) get you down.  Try the Fresh Produce tie dye scarf (shown in sunrise, $29.00), available on freshproduceclothes.com.
2.)    Don't be scared to wear white.
Say goodbye to the old-fashioned notion that white can only be worn in the three months between Memorial Day and Labor Day! Pair a cozy white pant with a perfect go-to top – we love stripes for any time of the year.  Our inspiration? The Fresh Produce Classic Stripe Buttonside Henley (shown in blush, $59), and Park Ave Pedal Pusher (shown in white, $44), available on freshproduceclothes.com.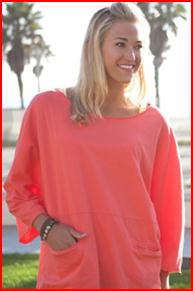 3.)Â Â Â Â Make your go-to sweater or top bright as can be.
We all have a signature go-to top – the one you wear when you're grabbing coffee, meeting up with friends, or running to the mall. It's cozy, it fits like a dream, and you look great it in, so why not wear it in a gorgeous, vibrant color?  Check out the Katamaran Pullover, (shown in sunrise, $59), available on freshproduceclothes.com.