Yes, it's that time of year again. Shopping for presents are inevitable whether you celebrate Hanukah, Christmas or Festivus! Get out your pen and paper because it's time to make your holiday shopping list. Check out Macy's Holiday Gift Guide for great gift ideas that will help you select presents for everyone on your list.
If you are buying a gift for someone that you will see before Christmas, selecting a holiday gift like a fancy tree ornament or a beautiful wreath would make a great gift. Macy's has an amazing selection of festive home décor items as well as kitchen gadgets, bakewear and accessories for entertaining guests.
No matter what you decide to purchase, just make sure you get the biggest bang for your buck by shopping holiday sales like Macy's upcoming Black Friday sale and Macy's Cyber Monday holiday sale. You'll save a lot of money and you will stay within budget. Play your cards right and you might even have some money left over to get something for yourself!
Make sure you get online Thursday, November 22nd for Macy's Black Friday Sale. You get FREE shipping on all orders over $99, no coupon code needed. If you're adventurous, get in your car and head over to your local Macy's department store for great deals that start midnight, Nov 23rd. Don't forget your list!
Right now, you can preview all of Macy's Black Friday holiday sale on their website. We are impressed with Macy's Black Friday Shopping List feature on their website. You can easily preview some of the items that will be on sale during their Black Friday sale and add the items to an online shopping list so you won't forget anything!
Deals We Recommend:
For The Home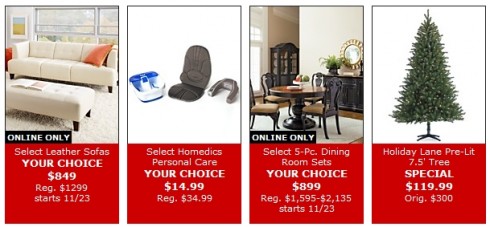 For The Kitchen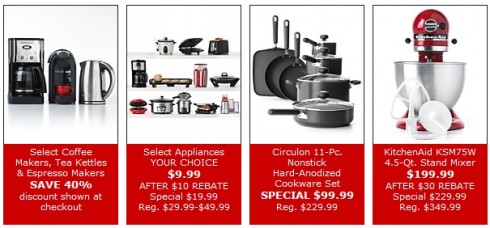 For The Dining Room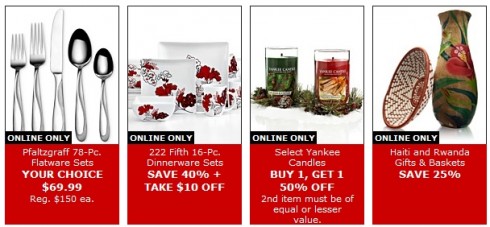 Stay up late Sunday, Nov. 25th so you can shop Macy's CYBER MONDAY specials that start online 11/25 and run until Monday, 11/26. Whatever you weren't able to pick up during your Black Friday shopping excursion, you'll be able to grab online. Cyber Monday is the last big sale before Christmas and the best time to get great deals online. If you can get all your holiday shopping done before December 1st, just think of how much more fun you'll have! You can kick back and relax while listening to Christmas tunes on the stereo while wrapping all your gifts.
We hope that you enjoy the holiday season this year! Please leave a comment and let us know what YOUR best Christmas shopping tips are!