Fashionable Media Review Policy: the manufacturer or representing PR agency for the sole purpose of product testing provided the featured product for this review to me, at no cost. Opinions expressed are my own and are not influenced by monetary compensation.
Adventures in Zambezia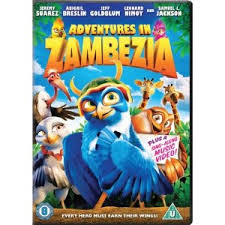 When a spirited young falcon named Kai learns of Zambezia, the fabulous city of birds, he leaves his remote country home against the wishes of his father. But when an evil lizard that plans to attack the city captures his dad, Kai must learn the importance of teamwork if he is to rescue his father, save his new friends, and help keep Zambezia lizard-free. Samuel. L. Jackson, Abigail Breslin, Jeff Goldblum and Leonard Nimoy give voice to this beautifully animated, fun-filled adventure the whole family will enjoy!
You can watch the movie trailer here:
http://www.youtube.com/watch?feature=player_embedded&v=YwVcjdEe0c8
Our Review:
My children and I really enjoyed this movie! It really is a delight for the whole family. Not only were the characters enjoyable and fun … but also most of all we enjoyed watching the birds save the day!
The film also has some great music and the DVD has an additional sing along music Video… which the children LOVED! We liked that this movie showcased the South African continent…it inspired us to get out the globe and talk about the continent. We also went to the local library to get some books on South Africa and birds. What a great accompanying lesson to the film!
The film is available online and at your local Walmart.
Overall the film is packed full with lively music and colorful images … fun for the whole family!
You  can learn more about the film at: http://www.zambeziamovie.com/