Fashionable Media Review Policy: The featured product for this review was provided to me, at no cost, by the  manufacturer or representing PR agency for the sole purpose of product testing.  Opinions expressed are my own and are not influenced by monetary compensation.
Choosing a car seat and stroller system can be a very daunting task.  With so many options out there it can be overwhelming trying to decide.  In my eyes, Evenflo has always been a brand I can trust.  Their products have always been of great quality and their prices have been very reasonable.  Their new FlexLite Travel System lives up to these standards.  Available in two different colors, yellow or pink, it includes an infant car seat, car seat base, and stroller.
When the box arrived I could not wait to open it.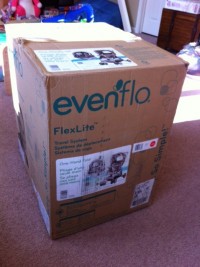 I wasn't sure if there would be a lot of pieces or if it would be hard to put together.  I was pleasantly surprised that there were very few pieces to put together and it was super easy to do!  The car seat and car seat base were completely assembled.  For the stroller I just had to add the wheel bar, double wheels, and the cup holders.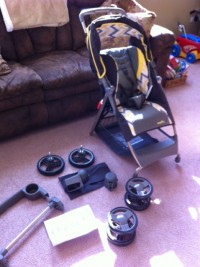 They all snapped easily in place and no tools were required.  The directions were clear and concise so it only took me about 10 minutes to put everything together.
Once together I had my husband install the car seat.  It took him about 15 minutes from start to finish to put the car seat base in.  He liked that it had a level built in on it so it was easy to see the proper recline for the seat.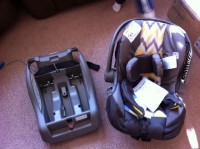 The car seat can hold a 4-35 pound baby.  This is great, since many car seats are not designed for low birth weight babies.  It is also great that it goes up to 35 pounds so your child can stay seated reverse for as long as possible.  It has a 5-point harness system that adjusts to three different positions for better fit and longer use.  The car seat has a very cushy pillow that I love.  My little peanut stays very comfortable in there!  It also has a nice canopy that keeps her protected.  I wish that the belts had added shoulder cushions, but those can be purchased seperately and easily put on.  The best part of the car seat is that the car seat pad is machine washable.  It can also be wiped clean for simple spills or accidents.  I like how you can hear a "click" when you put the car seat into the car seat base so you know it's secure.
The car seat can also be used on the stroller.  It easily snaps onto it and even has a stabilizer latch, which gave me peace of mind.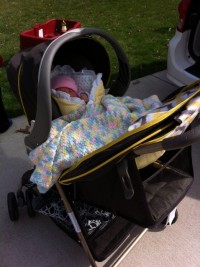 The stroller is a fantastic part of the travel system.  It is extremely lightweight and folds very easily.  It can even stand while it's folded.  I like that you can make the front wheels swivel or not swivel depending on the terrain.  The stroller has a great option of using either a child tray or cup & snack cup.  Both easily snap on or off for easy cleaning and versatility.  The basket underneath is HUGE!  It fits anything and everything.  Very importantly, it has a cup holder for me to put my drink in.  A nice feature on the stroller is the canopy.  It has a peek-a-boo window so you can easily see your baby without opening the canopy up.  I love that the seat can completely recline so my baby can lay down and take a nap.  The stroller is extremely lightweight, something you don't expect from a stroller that can hold a car seat.  It is also very easy to push and gives a smooth ride.
Overall, the Evenflo FlexLite Travel System is of superior quality.  It is very easy to use and clean.  Most importantly, it meets or exceeds all applicable federal safety standards.  It will definitely last for years and then some.  I would highly recommend this travel system.  It is available exclusively at Target.  For more information check out their website:
http://www.evenflo.com/product.aspx?id=425&pfid=6124