Fashionable Media Review Policy: The featured product for this review was provided to me, at no cost, by the
manufacturer or representing PR agency for the sole purpose of product testing.  Opinions expressed are my own and are not influenced by monetary compensation.
As a mother I am always on the run.  I use my stroller daily whether it be going for walks or running errands.  Skip Hop makes these tasks easier and more fun for my daughter.  Skip Hop is always a leap ahead with creating new products to make life easier for moms and dads.  They sell everything from organizers to toys for mealtime, bathtime, playtime, and anytime.  Two items I had the pleasure of trying were the Stroller Bar Activity Toy and the Grab & Go Stroller Organizer.
The Stroller Bar Activity Toy can either be attached to a stroller bar or infant carrier.  It easily attaches with two velcro straps.  We attached it to our infant carrier and my daughter loves looking at herself in the mirror.  There are also three fun objects that dangle right at eye level that she loves to bat it.  The zebra is removable so we can take it off and she can play with it when she gets fussy.  The accessory bar has many different colors, textures, and dimensions that really catch the eye.  One of them, the pear, even rattles so whenever we hit a bump she hears a jingle!  The Stroller Bar Activity Toy is available in two different styles, Alphabet Zoo and Treetop Friends.  Both are adorable and offer many developmental activities for your baby.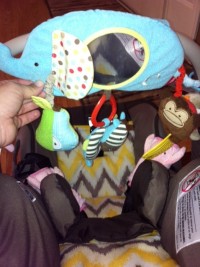 The Grab & Go Stroller Organizer is my lifesaver!  My stroller is great except it has no cupholders or holder for my keys or cell phone.  Usually I throw everything in the basket below, but then it's a pain to find what I need.  This Grab & Go Stroller Organizer is amazing.  It simply attaches to all stroller handles with two velcro straps.  You can then put everything you need in one place.  It has two insulated cup holders so I can put my water or coffee in one and my son's juice in the other.  Both bottles and cups fit in easily and barely move even when I hit bumps.  In the middle I can hold snacks, wipes, sunscreen, anything I need.  It holds a lot, too!  Everything stays secure and in place.  The best feature is the zip-off wristlet in the front.  It holds my keys, money, and cell phone.  It zips off so I can bring it wherever I need and then zip it back on when I'm ready to use the stroller again.  It even has a special hole for headphones to come out so you can keep your mp3 player in there.  The Grab & Go Stroller Organizer is machine washable and comes in either black or platinum.  I love that it even works on umbrella strollers so I can move it to whichever stroller I am using.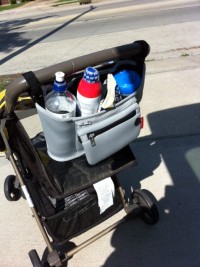 Both of these Skip Hop stroller accessories are great products.  Their quality is great and they are priced well, too, at $20 each.  I would definitely recommend these and plan on buying a few more for baby showers I have coming up.  Skip Hop products are available at many stores including Target, Babies R' Us, and Amazon.  Check out their website to see all of their great products!