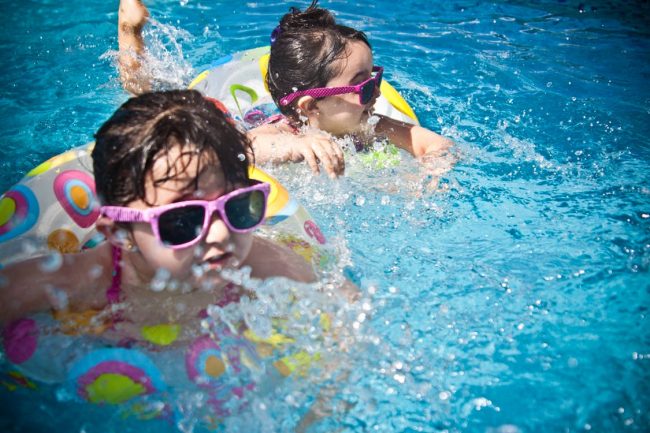 Pools can offer your kids hours of fun on warm summer days. Splashing in the water, playing games with friends, and cooling off from the sun are all reasons why kids enjoy pool days so much. In addition to being fun, pools are a great place for kids to build their stamina, increase their heart rate, build muscle, and improve their emotional health. In fact, statistics show that children who exercise frequently grow up to become healthier adults with better habits.
Unfortunately, no matter how enjoyable or beneficial a pool can be, it can also become a hazard when children and adults don't follow safety rules. If you want your child to splish-splash without having to worry about injuries or accidents, here's how to keep your kids safe.
Fencing Is a Crucial Barrier
If you have a pool at your home or you're visiting a relative with a pool, you must be sure that it is surrounded by a fence. Fencing is crucial! No matter how close you pay attention, kids are sneaky. You could get distracted for 30 seconds and disaster could strike. Being watchful is a must, but having a fence as a protective barrier for wandering and curious kids is just as important.
Invest in Safety Lessons
Of course, the most basic of all pool is making sure your kids know how to swim. Learning how to swim is important. Basic swim training from providers with small student-to-instructor ratios is key. In these lessons, kids will learn life-saving habits that will kick in so potential disaster can be averted. This helps to instill water safety habits in kids while they're young. Some pools even offer classes for the youngest of your kids so you can get even your babies swimming. Invest the time and money to take your kids to swim lessons.
Make Rules and Enforce Them
As a parent, you know how important rule setting is. You set rules for bedtime, dinner, and even playtime. Pool time should be no different. The excitement of jumping into the pool can make kids lose their inhibitions, and rules just help them stay safe. Remind your children that the rules aren't there to prevent them from having fun but rather to help them be aware of their surroundings. The goal is to help them have as much fun as possible while staying as safe as possible.
Use the Appropriate Safety Gear
There are all types of devices that children can wear to help them stay afloat but that doesn't mean they are 100% safe. Water wings and other inflatable objects are made of a thin plastic that can easily pop. You should always invest in Coast Guard-approved vests that aren't capable of popping. Even when your children are in safety gear, you should always have a close eye on them.
Emphasize the Dangers of Drains
In pools and hot tubs, drains are very dangerous. They are powerful and they are used to filter the water and to get out debris. You should always make sure every drain in the pool has its own firmly attached drain cover. Always locate the emergency shutoff before your children are near the pool so you can easily access it if there is an emergency.
Drowning is a preventable accident. When you practice safe swim habits you help your kids to have fun by the pool without having to spoil the fun. Always set rules and supervise your kids so they can stay both active, healthy, and have some fun.