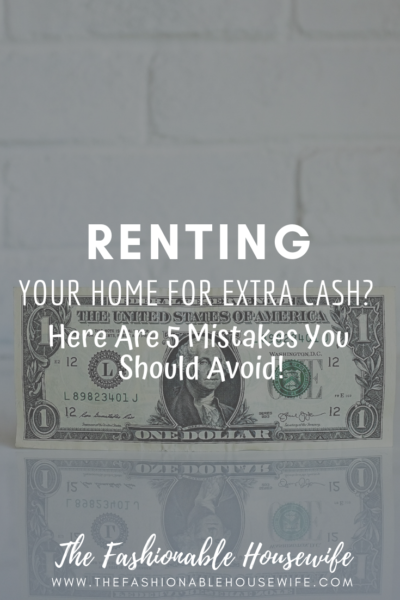 The vacation rental industry is at an all-time high. A report published by the Smart Hosts Vacation Rental Forum predicted that the vacation rental industry would grow to $170 billion the end of 2019, compared to $100 billion in 2016. The growth of the short term rental industry in particular has been propelled by platforms like Airbnb, where users can rent homes, apartments, and rooms from all around the world.

The short term rental industry is ideal for both homeowners and renters. Homeowners can bring in additional, supplementary income, while renters can experience an area like a local, often for a fraction of the price of a run-of-the-mill hotel room. Whether you're heading off on a vacation with the kids and want to earn money while you're away, or have moved before selling your previous house, there are plenty of reasons why home renting is ideal.

With so many benefits, it's no wonder that more people are opting to list their own properties. However, to claim your share of the home rental market, it's important to avoid some of the biggest mistakes new homeowners make. Here are mistakes you should look out for:

Doing the Bare Minimum
In order to score great reviews and renters, it's always nice to go above what's required of you. Instead of doing the bare minimum, why not go above the call of duty? Small additions go a long way. For example, adding plush bath towels, robes, luxury shampoos and soaps, welcome baskets, and local maps can do wonders. Your guests will appreciate the thoughtfulness and getting additional guests will become easier.

Not Staging Your Home
When you put your home on the market, you're hoping to attract people based solely on first appearance. Your photos will be the initial determining factor on whether a person is interested in renting from you.

"If you don't feel confident about your decor and interior aesthetic, now is a great time to invest in a redecoration," says Peter Goldberg, CEO of Bouclair.com, a house and home retailer in Canada. "Fortunately, you don't have to break the bank to add a few statement pieces that help strengthen your first impression."

It's also important to make your home feel cozy and inviting. Add throw blankets to your couches, books and magazines on your coffee tables, plants, and artwork. The goal is to curate your own personal style in a manner that works best for you and your visitors.

Not Using Professional Photography
You've gone out of your way to invest in new decor and furniture, but those efforts will prove futile if you don't take advantage of professional photography. Airbnb sends professional photographers for free to many of their popular destinations, which is something you'll definitely want to take advantage of. If that's not an option for you, consider hiring someone; the initial investment will pay for itself in the end. Professional photographers not only use stellar equipment, but know how to photography your home in a way that's most appealing, and can edit photos to really hone in on your property's best features.

Pricing Your Home Wrong
Believe it or not, it's possible to price your home both too high or too low. Accurate pricing can make or break your ability to attract renters. If you price too high, you can weed out users who are looking for an affordable vacation (you'll also miss out on potentially attractive reviews that can bring in other renters). If you price too low, you can inadvertently create a "too good to be true" mentality.

Many home listing platforms like Airbnb and VRBO suggest pricing for you based on your local area. This is a great starting point to consider. However, as this is an automated number, you'll want to conduct manual research, too.

Take a look at what similar properties are going for in your area to better understand where your property fits. When you're looking at competing homes, keep in mind that you want to look at things like amenities, number of rooms, etc; home pricing is about more than just the location. Just because two homes are in the same neighborhood in New York doesn't mean they are worth the same (one might have a rooftop lounge, for example).

You'll also want to evaluate homes that have a decent number of reviews. Newer properties tend to price below market value to gain early renters.

Listing On Too Many Sites
In your early stages, you might want to try out different platforms (one at a time) to see which you prefer best. However, listing on too many sites at once can quickly become confusing. It's easy to lose track of which platform has which dates booked. Managing two calendars can create overbooking issues that force you to cancel, and make you look unreliable as a host. Choose one platform, and focus solely on that choice.